Dinner Dance
In a short span of time, the Society held itís second activity. This was held Saturday 12th December, 1998.

This activity kicked off the seasonís celebrations. The venue chosen for this Dinner was the Limelight Hotel, Bugibba.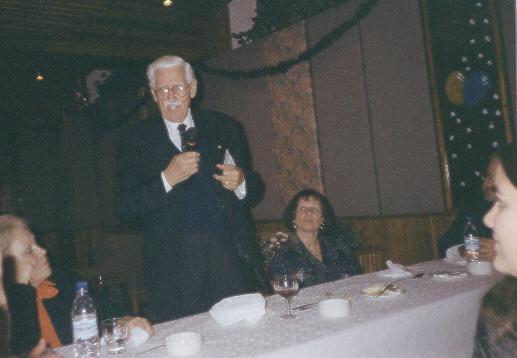 H.E. Count Fra Norbert Kinsky addressing the gathering.

As a guest of honour we invited H. E. Count Fra Norbert Kinsky, resident Knight of the Holy Order of St. John of Jerusalem, Rhodes and Malta, who resides at Fort St. Angelo. Fra Kinsky who is Czech, delivered an emotional speech fitting for the occasion.
This was a very enjoyable evening, were besides a choice of menu, prices were kept minimal. Live entertainment plus music was provided. Many availed themselves of this opportunity to show off their dancing skills!
At the end, a small souvenir was presented to the society's members. Which was made available by the Czech Embassy. As expected we had a very good turnout for this evening.