Cultural Magazine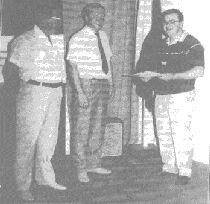 The Society has it's own magazine, "Il-Holqa" (The Link), which magazine was inaugurated at a special ceremony on the 21st July, 1989.
In this picture the first issue of the magazine is being presented to Dr. Jezo, then cultural attache` of the Czechoslovak Embassy in Malta.
This informative cultural magazine is published every quarter and is distributed free-of-charge to all the society's paid up members.