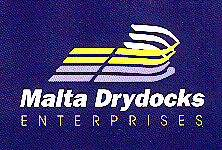 Malta Drydocks`
(Unofficial) Home Page
Drawing Offices
These are organised in four sections, namely:
Drawing Office - Hull
Drawing Office - Engineering
Drawing Office - Electrical
Drawing Office - Civil Engineering
The total number of technical personnel employed at the Drawing Offices is about 42 fully experienced Naval architects, Leading Draughtsmen, Draughtsmen, Tracers, etc.,
They are fully conversant with
AutoCAD Computerised Design System
1/10th Scale Drawing System is used at the Yard. Workshop working drawings are prepared by the respective sections of the Drawing Offices.
All Structural Working Drawings are carried out by the Hull D. O. section. Pipework drawings are prepared by the Engineering D. O. section, while Electrical and Instrumentation requirements are under the responsibility of the Electrical D. O. section.
Printing Facilities for full size drawings are also available.
As-built drawings and documentation is carried out by the respective drawing office.

Dear Cyber visitor
I am still working on these pages, if some links don't work or you notice anything which should be fixed please drop me a line. My email address is sabra@keyworld.net
---
|| Main Page l | MDD's History | MDD In Brief | MDD - Main Features | MDD's Working Hours | | MDD's Virtual Guide ||
|| Mechanical l | Steelwork | Pipework | Electrical | Tank Cleaning | Stocks & Stores | Hull & Tank Coating ||
|| Electronics l | Foundry | Boilermaker's Shop | Light Steel Shop |Technical Services | | Quality Control & Quality Assurance ||
|| Rigging | Manoel Island Yacht Yard | Galvanizing Plant | Computer Network ||
|| Agents_| 7 Drydocks | Safety | Clinic || Underwater Work } Laboratory Facilities }
---
Maintained by Lawrence Attard-Bezzina,
All rights reserved - 1999