Hull and
Tank Coating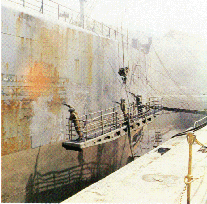 The warm and dry weather in Malta is ideal for painting work all year round. High pressure washing equipment is fitted on the dock arms, and smaller portable units are used in hard-to-reach areas.

Grit blasting is conducted using 100 ton silos with double chamber blasting pots or by using bulk blasting machines.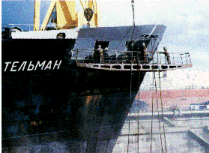 For tank coating we have vacuum suction equipment, dust collectors and dehumidifiers to ensure that relative humidity is kept low and controlled.
All blasting is done with dried and oil-free air from our central compressor house with a capacity of 38,000 cfm, enough to supply 50 blasters at any one time.
Our quality control department continuously checks and records blasting standards, film thicknesses, temperatures and relative humidity, ensuring that the specified standard is maintained.